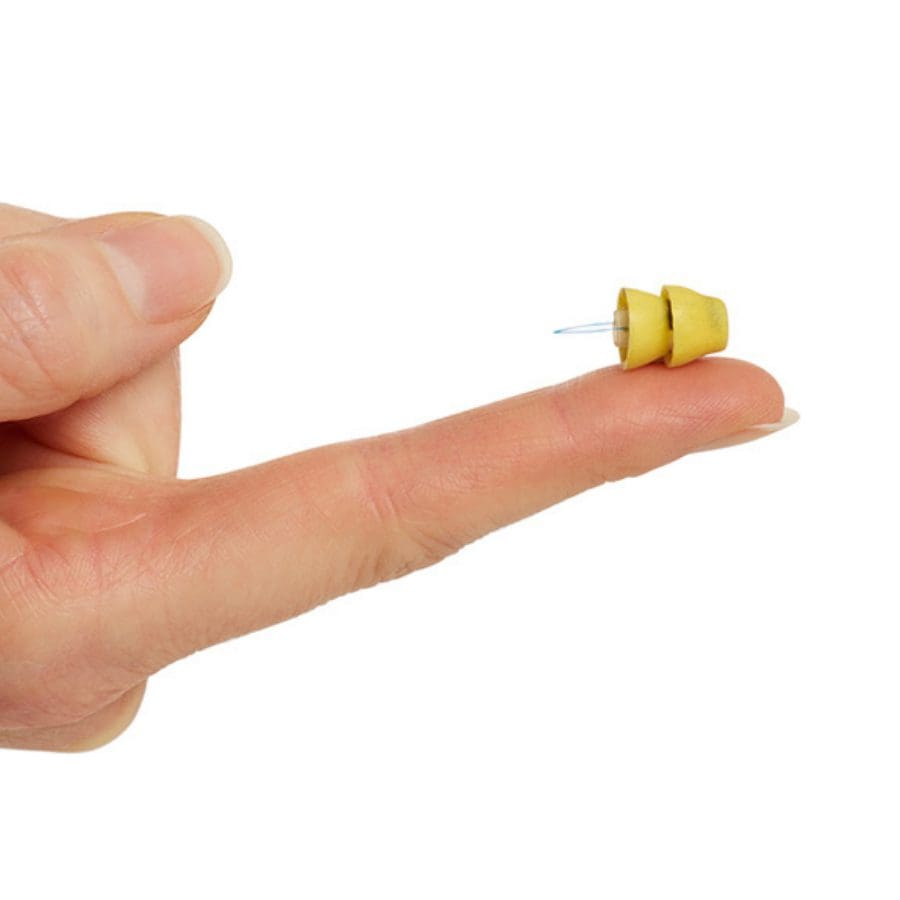 Hearing aids have come a long way from when they first came about, with the very first hearing aid created back in 1898. After the onset of miniaturization, hearing aids began evolving at a much more rapid pace, bringing us to what we have now—the Phonak Lyric! If you've ever avoided wearing hearing aids because they looked or felt awkward and bulky, you no longer have to worry about that! Keep reading to learn more about the Phonak Lyric invisible hearing aid and why you should consider it.
What Is the Phonak Lyric?
The Phonak Lyric is the world's only invisible hearing aid. Yes, you read that right—the Phonak Lyric is 100% invisible, but still delivers perfectly clear and natural sound. Lyric uses the best of microengineering technology to allow for a sleek, discreet, and comfortable hearing aid. Lyric uses Swiss precision technology to create an excellent build quality while maintaining a miniature size.
How Is the Phonak Lyric Different from Traditional Hearing Aids?
The Phonak Lyric utilizes micro-engineering to create a cutting-edge hearing solution. Whether it's efficiency or convenience, the Lyric invisible hearing aid is miles ahead of other hearing aid solutions on the market. It's discreet, doesn't require constant insertion and removal—and is even water-resistant*! At Wichita Falls Hearing, we're proud to be the only provider in Texoma certified to fit the Phonak Lyric.
Benefits of the Phonak Lyric Invisible Hearing Aid
As technology keeps advancing, the need for convenience and smaller solutions becomes stronger—and the Phonak Lyric is the pinnacle of it. An innovative approach to the world of hearing aid solutions, it has several benefits that other hearing aids don't:
100% Invisible
As we mentioned before, the Phonak Lyric is 100% invisible. This is because the hearing aid is placed deep in the ear canal, so it's entirely out of sight. But don't worry! The process is completely painless and only takes a few minutes. The appearance of hearing aids is one of the factors behind why people who experience hearing loss avoid wearing them, but with Lyric, they no longer need to try to disguise or hide their hearing aids.
Natural Sound
The Phonak Lyric processes sound in a more analog way, rather than digital. What this means is that it uses the anatomy of the ear to localize the sound, allowing a much more natural sound and hearing experience. Although sound is produced outside of the ear, the process of hearing primarily happens within the ear, and Lyric uses this to its advantage. Where traditional hearing aids convert sound to digital signals, Lyric is placed in the ear canal near the eardrum, so it can utilize the anatomy of the ear canal to amplify the sound—creating a hearing experience as close to natural hearing as possible.
Permanent Sound
Traditional hearing aids usually need to be frequently removed and put in depending on what you do during the day, but Lyric is different. Since the Phonak Lyric invisible hearing aid is placed inside the ear canal, it doesn't need to be removed for months at a time. This means that you can wear them when you sleep, when you play sports, when you wear headphones, and even when you shower*! Lyric is also intended for extended use, taking "out of sight, out of mind" to a whole new level. In addition, Lyric comes with a sleep mode, where it adjusts to acoustic transparency. Acoustic transparency in hearing devices allows users to perceive sounds nearly identical to the open ear, so it feels like you aren't wearing a hearing aid at all. You can even turn off Lyric if you want to.
Independent Replacement
Self-replacement is an optional procedure that lets you replace your devices independently. The Phonak Lyric is sold on a one-year subscription basis by certified providers, meaning that users can get new devices on a regular basis as and when they need them. The duration of a Lyric device depends on the user and their particular ear conditions; however, it can generally be worn for months without interruption. Whenever you need a replacement, you can just visit your Lyric provider!
Low Maintenance
The Phonak Lyric doesn't have any batteries that need to be charged or replaced at any point. In addition, you'll also receive all technology updates when they come out. Getting your Lyric fixed is a process that only takes a few minutes, and the same goes for the replacement procedure as well. You can also remove Lyric on your own—your hearing care specialist will give you a tool called the SoundLync™ when you get fitted. The SoundLync™ can be used to adjust the volume of Lyric or to remove it, but it can't be reinserted once removed and you will need to visit your Lyric provider for a replacement.
Comfort
Lyric is made from a soft and biocompatible material that is designed to perfectly contour to your ear canal to ensure stable and comfortable placement. It also allows for natural ventilation within the ear. Lyric comes in seven different sizes ranging from XXS to XXL, so it can fit comfortably in your ears no matter the size. The Phonak Lyric is also the perfect fit for any lifestyle—whether you want to put on a helmet, exercise with headphones, take a nap, talk on your phone, fly on a plane, or simply go for a walk and enjoy the sounds of the world. Lyric allows you to live your life without needing to think about hearing aids.
Water-Resistant
Unlike traditional hearing aids, Lyric is placed deep within the ear, and so doesn't need to be removed while showering. *Note:The Phonak Lyric is water-resistant, not waterproof, meaning that activities, where the head is fully submerged underwater, are not recommended. This includes swimming, diving, and other water activities where you may be fully underwater. You can speak to your provider about using swim molds to protect your Lyric during water activities. With all these benefits, it's not surprising that 88% of Lyric users feel that they've gotten their natural hearing back, and 93% would recommend Lyric to their loved ones.
Get a Free Lyric Consultation at Wichita Falls Hearing
Lyric is designed for users with mild to moderately-severe hearing loss, but you will need to visit your Lyric provider to see if it is right for you. Wichita Falls Hearing offers a free consultation so you can see if Lyric is a good fit for you. We're the only provider in Texoma certified to fit the Phonak Lyric, so call us at (940) 468-1729 or visit our website to request an appointment. We look forward to helping you enjoy a completely invisible hearing solution!